Basket Making with Jon's Bushcraft
Posted on
Back in the dark days of winter I wanted to find some nice baskets to place our logs in. We had been looking for a while and could not find anything that would suit, so I decided to learn how to make them. Not only that, I would make them to a size suitable for the logs, naturally I was dreaming big! I started looking for courses and found some in October which seemend too far away. I then found Jon's Bushcraft http://jonsbushcraft.com/. As I was discussing my plans, my husband said he would like to come too, which meant that we could drive to Warwickshire without getting lost..........We opted for a course in May in case of inclement weather and to avoid the disappointment of snow.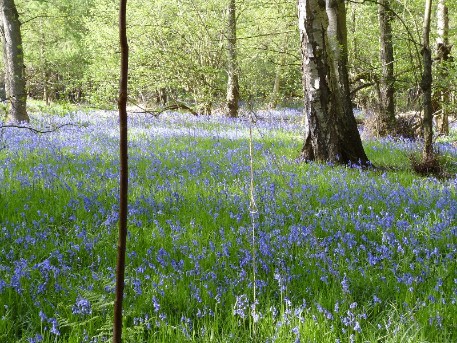 On Saturday 3rd May we packed our sandwiches and headed up to a bluebell wood in Warwickshire. The weather was on our side and we arrived with nearly an hour to spare. Jon met us at the car park and walked us into the woods. After a short walk we came to a clearing set up for the class. A silk parachute canopy protected us from the sun as we learned how to start our basket base. It took a few turns to get to grips with how to manoeuvre the willow; I split mine initially, which was frustrating, but once underway the base built up quickly.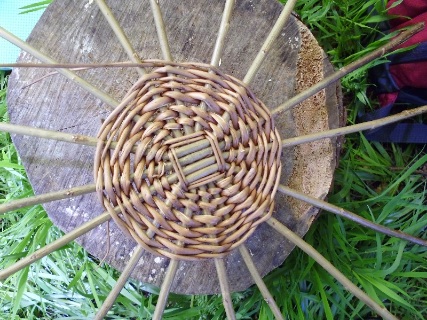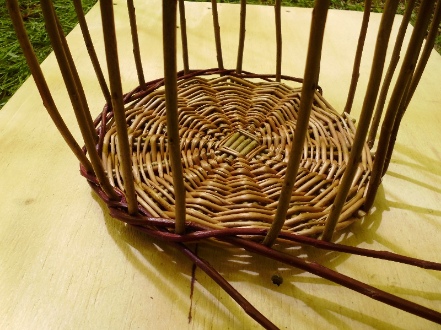 Next came the sides and the different ways of creating the edges - waling in this case. The next weave was french randing. We used willow and larch (picked from the forest). Then we did some more waling in willow and finished with a 3 behind 1 border. The last thing to add was the handle - a thin piece of hazel Jon had kindly pre-shaped. The photos on Jon's website explain each step of the process really well. A day in the woods really took us out of ourselves and Mark has been buzzing ever since. He has continued raving about making baskets ever since.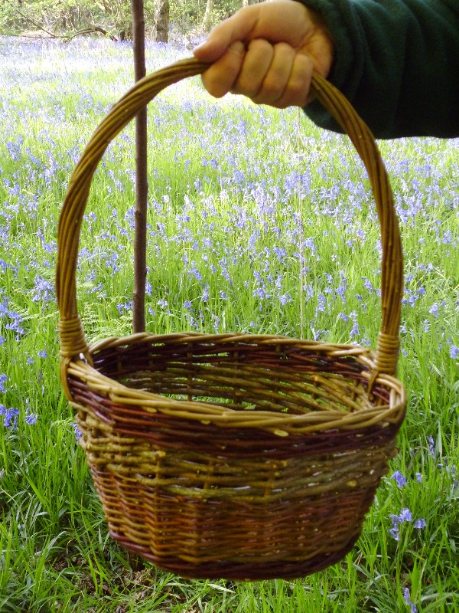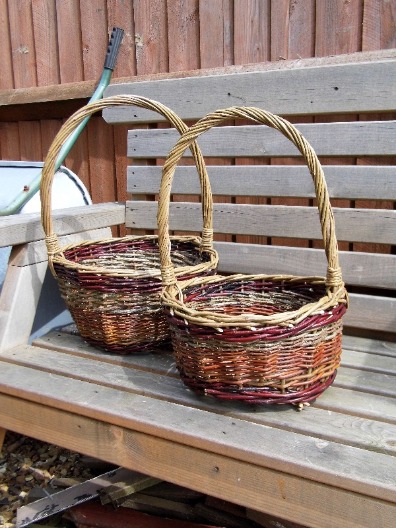 From left to right - my basket, Mark's and our completed baskets. We also had a campfire stove to make tea and the compostable toilet was something to behold for those like me who like a sense of their creature comforts. Everything had been carefully thought through. We would thoroughly recommend the course to anyone who wants to learn how to make baskets from such a skilled teacher. We have already ordered a basket making starter kit from Musgrove Willows to experiment with, probably over half term........