Autumn workshops and my night at the museum!
Posted on
One of the things I enjoy about leather work is being able to share my skills with other people. This autumn I have taught two workshops. The first was at Queens Park Arts Centre in Buckinghamshire (http://www.qpc.org/). They always run interesting workshops and my belt making has been part of the 'Sunday Specials' for a few years now. Participants had the opportunity to learn the skills of belt making and this time two students wanted to make collars for their dogs - check out the well dressed pooches in Aylesbury!
The second workshop was part of a members evening at The British Museum. The museum is running an exhibition on the Scythians (well worth a visit) and the workshop was intended to offer members the opportunity to experience leather work.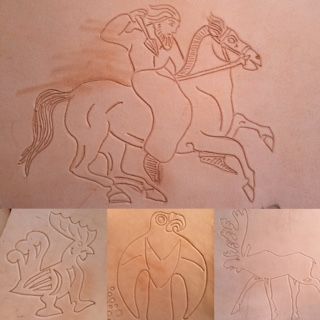 We visited the exhibition in October and from that visit I was able to have a look at some Scythian inspired ideas for members to try on their coaster and take home to enjoy. The picture above is of the initial ideas which were then resized to fit the coaster shape. The Scythians were efficient and advanced in many of their techniques in metal, leather and wood work. I realised that I would have been a hopeless nomad, probably with the biggest bags of might-come-in-handies possible.
The evening was a lovely occasion and my classroom for the evening was Gallery 17, the most amazing classroom! Many members commented that they enjoyed the chance to try something practical. The amazing Omar supported me and time just flew by. A fantastic opportunity - thank you British Museum.
Below are a few photos of the evening.